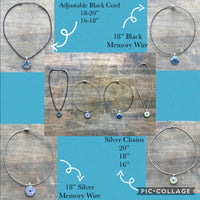 Necklace Styles
While offering many different designs for our pendants, we thought it was also important to tell you all about the many different necklace styles we have. When selecting a pendant you will notice there is a drop-down option for you to select the item or items you desire. This photo here features the 4 different styles we have for our pendants. Also don't forget we have our Levitation Collection which has different designs on fishing line. 
Testimonials
"Lindsay & Jenn helped me to create a one of a kind piece as a gift for someone special. They worked with me until it was perfect and then got it to me very quickly. Highly recommend."

Jen A.
"Love the  whole concept since I'm a true Wash-a-shore! These products are so creative and inspiring; just like the ladies that make them. Beautifully done and make wonderful gifts!"

Debbie B.
"Came today, I absolutely love it!" #finsup #hardwareit

Kelly L.